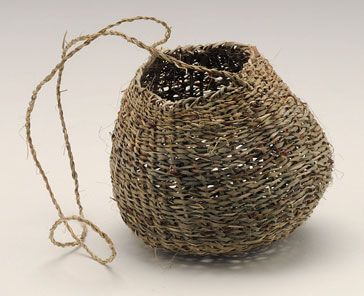 'My mother taught me how to weave using the flax, and how to strip the fibre using a needle and to coil using blanket stitch. I decorate the baskets with shells, nuts and feathers. I work with all natural fibres and hope to experiment with colour which should add an extra dimension to my work'.
Betty Grace is a Tasmanian Aboriginal woman born in 1945 who lives on Flinders Island and began to weave baskets in 2005. Learning to make fibre baskets provided Betty with a valuable link to her cultural heritage, which inspired her to attend the workshops.
Betty has a Certificate IV in Training and Assessment and has participated as a speaker in the Aboriginal Sharers of Knowledge (ASK) Program through Aboriginal Education. In the future Betty would like to pass on her weaving skills to Aboriginal girls by teaching in schools.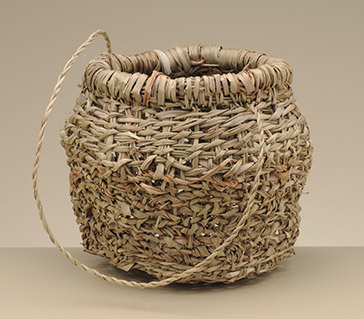 Fibre basket, 2005
Flinders island
blueberry (Dianella tasmanica)
Have only had several lessons in making this Basket (my first). And it linked to my Heritage that highlights the significance of a traditional cultural practice. Traditionally made – using the twist weaving.