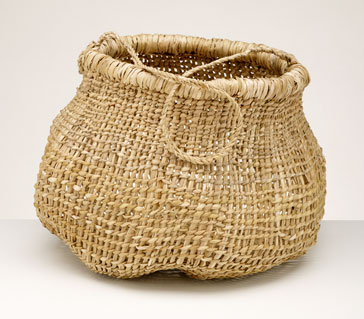 Basket, 2005
Hobart
river reed (Schoenoplectus pungens)
150x190 mm
collection of Bagdad Primary School
Lennah Newson (1940–2005) was born in Launceston, spent her childhood on Flinders Island and later lived in Hobart. Throughout the years Lennah remained deeply attached to Flinders, in particular, the beaches and the sea. They were her source of inspiration.
Lennah made her baskets using materials including river reed, watsonia grasses, juncus reed, native flax, feathers, as well as flotsam found on beaches. She would weave these materials into coiled, twined and cross-stitched baskets sometimes densely woven and robust, at other times delicate and transparent.
Lennah's work has been widely exhibited including Beyond the Pale, Adelaide Biennale (2001), Tactility, National Gallery of Australia (2003), Woven Forms, Object: Australian Centre for Craft and Design (2005). In 2005 Lennah, Colleen Mundy and Eva Richardson exhibited their fibre works in the NAIDOC exhibition, Twining Culture at Moonah Arts Centre.
Lennah became a role model and mentor helping Tasmanian Aboriginal women in the art of basket weaving. She also demonstrated the craft at festivals and school education programs. In 2006 Lennah was inducted into the Tasmanian Honour Roll of Women for service to Aboriginal Affairs and the Arts. The Honour Roll recognised that 'The continuation of traditional fibre art in the Tasmanian Aboriginal community will be a lasting legacy of Lennah Newson'.
Edited from a biography by Laura Fisher for the Dictionary of Australian Artists Online, 2008. Reproduced with permission of Wayne Newson, and the author and publisher.