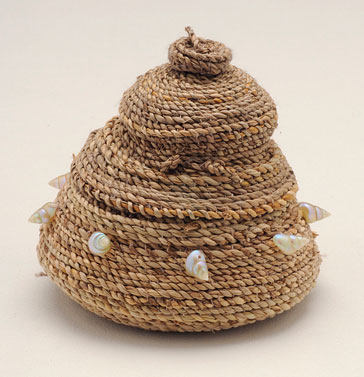 'It gives you a good feeling to watch something grow from your own hands, to watch the fibres take shape and watch the story unfold at the end, this is my heritage, this is my Country, this is me.'
Leonie Dickson is a Tasmanian Aboriginal artist who is also a descendant of the Bunurong people of Victoria. Leonie was born on Flinders Island in 1950 and moved with her family to Hobart when she was six years old. She has worked in Aboriginal Affairs in a variety of roles for over 30 years and is currently the Aboriginal Health Liaison Officer at the Royal Hobart Hospital. Leonie resides in Glenorchy, where her family is actively involved in the Aboriginal community.
Leonie has experimented with different forms of art, but it was not until she was taught basket weaving and kelp work by her cousin Lennah Newson and her sister Verna Nichols that she settled with these two media. Leonie works mainly with kelp, but in the last three years has also mastered basket making with grass fibres. Her inventive work ranges from very tiny to large mixed media pieces.
Leonie has exhibited in Tasmania at the Living History Museum of Aboriginal Cultural Heritage, Moonah Arts Centre, Grand Chancellor Hotel, Women's Karadi Aboriginal Corporation, Palawa Aboriginal Corporation, and in Victoria at Churchill Island. Leonie has participated in many workshops and her work is represented in national and international collections.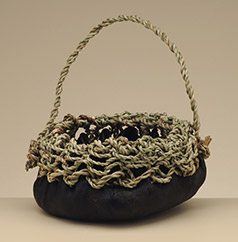 Knit one purl one, 2008
Hobart
bull kelp (Durvillaea potatorum),
unknown fibre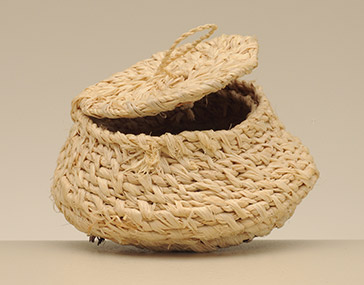 Fine work, 2008
Hobart
raffia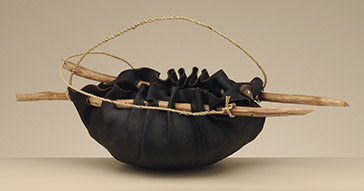 water carrier, 2008
Marrawah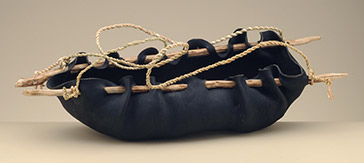 Water carrier, 2009
Hobart
bull kelp (Durvillaea potatorum),
cumbungi (Typha sp.), tea tree (Melaleuca sp.)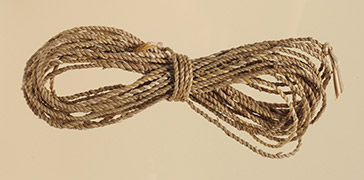 String, 2009
Hobart
river reed (Schoenoplectus pungens)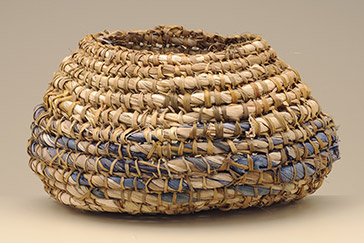 Feeling blue, 2008
Hobart
mixed media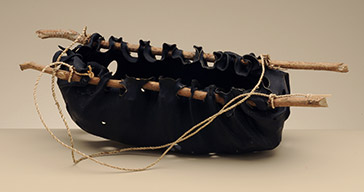 holey water, 2008
Marrawah
bull kelp (Durvillaea potatorum), river reed (Schoenoplectus pungens)