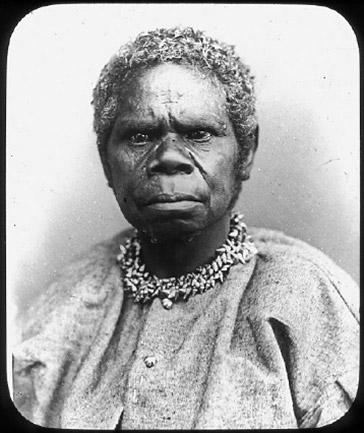 Trucanini, born in 1812, was a member of the Nuenonne band of the South-East Nation whose homeland included Bruny Island and the D'Entrecasteaux Channel area. Trucanini was a vibrant knowledgeable young woman, whose life was one of tragedy and betrayal, as a result of the British invasion. By the age of 17 she had witnessed the worst evils perpetrated by white people; her mother and her husband-to-be were murdered, her uncle shot, her stepmother kidnapped, her sisters abducted and Trucanini herself was raped by white men. Yet she still chose to engage with them.
Trucanini first met George Augustus Robinson on Bruny Island. Impressed with her intelligence and command of the English language, Robinson convinced Trucanini her husband Wooraddy and other friendly natives from the Bruny Island Mission that he had established, to accompany him on his travels throughout Tasmania. Based on his promises to protect the remaining Aborigines and respect their culture and customs, Trucanini, Woorady and others spent five years assisting Robinson on his so-called "Friendly Missions".
When Robinson was employed as the Chief Protector of the Aborigines at Port Phillip in 1839 he took Trucanini, Wooraddy and thirteen others Aborigines with him to Victoria. Involved in a series of raids in Victoria's Westernport-Dandenong region, Trucanini, Fanny and Matilda escaped execution and were sent back to Wybalenna in 1842. Wooraddy also returned with them but died before reaching Wybalenna.
In 1847 Trucanini and the remaining 46 survivors of Wybalenna were moved to the abandoned women's prison at Oyster Cove. Saddened and betrayed Trucanini died in Hobart, in 1876 aged 64. Before her death she pleaded for her body not to be desecrated. However white society committed the greatest betrayal to her, when two years later, the Royal Society of Tasmania had her body exhumed. From 1904-1947 her skeleton was placed on public display in the Tasmanian Museum. It was not until 1976, when her ashes were spread in the D'Entrecasteaux Channel, that her spirit was finally set free.
Trucanini should be remembered as a proud and courageous survivor in a time of harsh brutality and uncertainty for the Aboriginal people. She showed the indomitable spirit of Aborigines throughout time and as such, should be respected and honoured for her role in Tasmania's history.
Perhaps the most important legacy of Trucanini is the continuing expression by the Tasmanian Aboriginal people, everyday, of a living, dynamic, cultural community taking its rightful place in Tasmania.