May 2006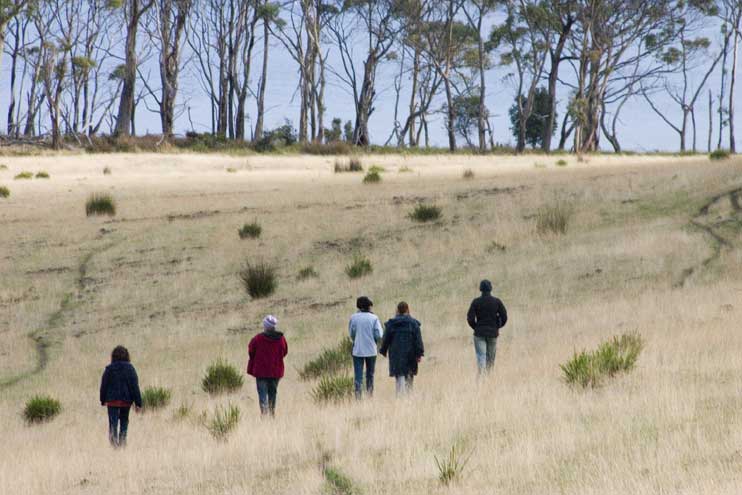 Photographer: Lucia Rossi
The first workshop was held on Bruny Island at Murrayfield, the Indigenous Land Corporation property.
Participating weavers were Dulcie Greeno, Sharnie Everett, Colleen Mundy, Verna Nichols, Zoe Rimmer and Vicki West.
The women walked the land to study specific local heritage and collect plants growing in the natural environment. This workshop created a great deal of excitement as the women worked together collecting, preparing the fibres and, for some, weaving for the first time.
A research paper on Tasmanian fibre work, which included a draft report by Alan West on the historic Tasmanian baskets held in collections internationally, was the first discussion point.
Aboriginal Heritage Officer Sharnie Everett guided the women to places on the land to collect plants and also showed them cultural sites including a place to collect ochre. The women quickly learnt that autumn is not the ideal time of the year to identify or collect plants. With no flowers or berries, it was a challenge for the new collectors and makers to identify different plants in the bush. The only plants collected were Dianella tasmanica known to the women as blue berry and Gahnia grandis or cutting grass.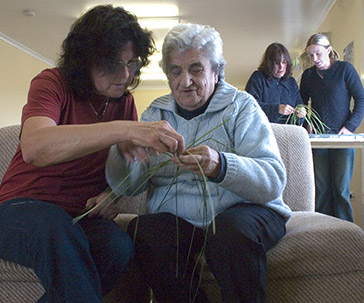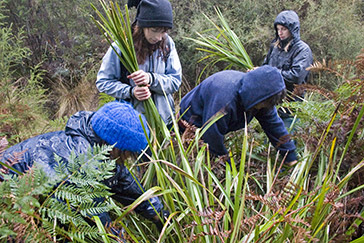 Photographer: Lucia Rossi