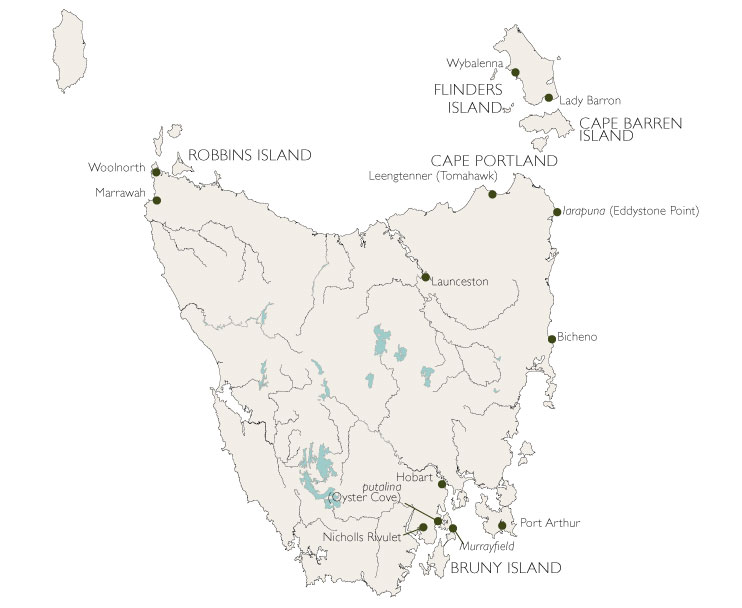 Tayenebe was a statewide project, encouraging Tasmanian Aboriginal women to participate in seven workshops held at various locations around Tasmania. As well as the development of weaving skills and techniques, the workshops aimed to allow participants to acquire knowledge on each of the plants traditionally used to make Tasmanian Aboriginal baskets.
Arts Tasmania set out to hold the workshops in places where Aboriginal women could collect native plants for weaving and making string.
These workshops, funded by Arts Tasmania, gave the tayenebe project a sense of continuity and momentum that in turn led to a substantial and inspirational regeneration of fibre craft. Tasmanian Aboriginal fibre work, although carefully maintained by a handful of weavers through the 1990s, was in a precarious state until the recent gatherings of these weavers. Land and sea plants provided a focus for relearning skills and knowledge about place and plants, seasons and styles of making. Native irises, lilies rushes, sedges and reeds along with marine bull kelp have been collected and shaped or twined into a variety of forms to express ideas often linked to the importance of continuing cultural practices, sharing skills and knowledge, walking together in Country, and honouring the Ancestors and their work.
The tayenebe workshops were purposefully held at a range of locations and at different times of the year to assist learning about seasonality, location and distribution of plants.
Greeno, L. (2009). tayenebe: weaving our stories, in tayenebe: Tasmanina Aboriginal women's fibre work, catalogue, Hobart: Tasmanian Museum and Art Gallery.